| | |
| --- | --- |
| | About Landscaping |




Landscapes R Us
123 Main Street
Anytown, NY 20317
USA
(212) 555-4321
(212) 555-1234 fax

Send Us

E-mail

© Copyright 2011
Landscapes R Us
powered by Website2Go.com
All Rights Reserved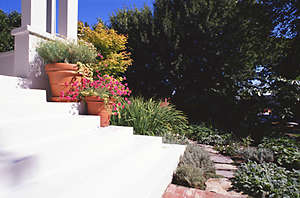 For many people, hiring a landscaper is a strange process, confusing and expensive.

After all, how is a rock is worth $50, a bush $500, a retaining wall $1,000?

According to the American Nursery & Landscape Association, Americans spent approximately $16 billion in landscaping in 1998. One of every five households have hired professional landscapers within the last five years, too. Obviously, it's a big business, and consumers need to be wary. Professional landscaping can cost a lot, and hiring the wrong landscaper could cost more than just money.

These tips are from landscapers themselves:

Trust word of mouth. If your friends and neighbors have had good experience with a landscaper, chances are you will, too.

Ask your local nursery, home and garden store for landscaper recommendations. If a landscaper is good, word spreads pretty quickly.

Ask for references and look for experience. Check references and also find out if they show up for appointments - reliability is important.

Look at similarly priced work to compare what you will get for your money.

Watch out for ripped up yards. One cost many landscapers factor in is resodding your lawn after their machinery has ripped up the grass. Make sure to take this into account.

Do not put a lot of money up front. Twenty percent should be all.

Ask for estimates based on unit pricing. Insist that the estimate be broken out to show per-item costs, and get the estimate in writing.

Make sure they have liability and workers' compensation insurance.

Ask to see a pesticide license, or other appropriate licenses. Different states require different licenses.

Do you feel comfortable with your landscaper? This is the true test, as landscaping is a subjective service, and you must have a good working relationship with them.